Peter Aikman began his journey toward a greater understanding of his farm business by trying to discover the information behind his financial data.
"I wanted to improve my knowledge. I wanted more confidence in my numbers. I wanted more accuracy, transparency with business partners, whether that be people in your business or your banks and to enjoy it."
This has given Peter confidence in not only understanding his own data, but also empowering his business planning and decision-making.
Your Farm Business Podcast: Pater Aikman – A Farmer's Business Journey
Transcript: Mike Krause talking to Peter Aikman on how P2PAgri helped improve his financial literacy decision-making through greater understanding and transparency of his own business's data.
Mike Krause:
I'd like to introduce Peter Aikman to Your Farm Business Podcast. Peter, welcome to the podcast. Thank you for joining us.
Peter Aikman:
Thanks Mike, good to be here.
Mike Krause:
Peter's has a great background in that he started his agricultural career at Dookie Ag College, doing an agricultural degree there. He took off as an agronomist for orders and then worked for an accounting firm out of Swan Hill called Dodgshun Medlin. About 10 years ago, Peter took over the family farm. Peter, your story interests me because you've put it upon yourself to look at the farm, even though you've an agronomist background, to really put on the business hat and understand how farming works and the business side of things, but just give us a bit of a background to your family farm and where it is and from there, Peter.
Peter Aikman:
So farming with my mother and father and wife Jane, children Evie and Masie, and we're at Annuello which is in the Northwest of Victoria in the Mallee. We are a 100% cropping enterprise. And yeah, I've been home full time since 2014. So that was a period where I'd been actively involved in the farm prior to that, more or less from the time I left school, really.
Peter Aikman:
I deferred for a year and worked full time at the farm thinking that was going to be what I did for the rest of my life, and then decided, well, after a year on the farm, I should go and see what Dookie College has to offer. It actually took 14 years to come back. So I'm really glad I did go away and broaden my horizon. And probably the network is the biggest thing about leaving the farm. The area I grew up for 14 years and the people you meet along the journey and the experiences and what you learn, but then certainly very happy that an opportunity come up to buy a farm, not far from the family farm. So we could effectively double our area, which enabled me to come home full time and yeah, that was 2014.
Mike Krause:
Back in 2014, you obviously had a motivation to understand business performance and how to manage the farm more from a business perspective. Where do you think that motivation came from?
Peter Aikman:
I've always been a fairly analytical person. So I think I'll always think hard about the big decisions on the farm and previously I guess I had a series of spreadsheets, and when the intention to buy a new farm or a new machinery purchase come up, it was always a fair bit of deliberation and working out what was best.
Peter Aikman:
Everyone makes the decision but I guess then I had been back on the farm for a couple of years and I was recommended to go to the Rabobank Executive Development Program. So that was a two-week course over two years in Sydney. And I guess that was where I really did discover that we need a strategic plan at that meeting and you review your business.
Peter Aikman:
And I felt that we had a fairly good grasp of the agronomics and the operational side of the business, but really identified that financial literacy in the business, and me as the manager now, was probably the area that we had the least skill sets in. That's what started my journey to improve my knowledge. I guess we're all running fairly sizeable assets now and there's not too many CEOs running multimillion dollar businesses that haven't had any financial education.
Peter Aikman:
So that's where I decided I need to up skill myself.
Mike Krause:
Right. Then you got attracted to P2PAgri. What drew your interest to that?
Peter Aikman:
So at the EDP in Sydney, there was a presenter talking about the importance of benchmarking and how you should have KPIs and that was always something that I knew I should have so after that, I thought about creating my own benchmarks in a series of spreadsheets, which was fine. Had all my numbers, which was good but I didn't have anyone to compare them with. I got some data out of different accounting firms.
Peter Aikman:
However, even that data was different to my data, because I was creating my data from a production year, which involved my farms from January to December, and a lot of the benchmarks that I was looking at had tax mitigated financial reports which were in June July. So yeah, I just got a look through what was out there and there's a lot of software that analysed data. I guess P2PAgri was a little bit different given that it was built by an economist… yourself.
Peter Aikman:
Most software is developed from an agronomy background. A lot of the other software is intentionally built for resellers. Nothing wrong with that…we get gross margin information, but I guess your platform, however, it's not at a paddock level - it's at our overall business level, isn't it? So, we're capturing variable costs like you would in some of the other software, but we're capturing the overheads and the finance costs and your assets and liabilities, just a totally different way of looking at it from some of the other software. So that's what drew me to P2P. And I've been happy with what it is able to deliver for me.
Mike Krause:
Great. And Peter, you didn't stop there because you've adopted another principle that I find is really true - that the best way to learn something is actually to teach it. So you decided that you were going to expand out and not just collect data, using the P2PAgri platform, but get another five or six key producers in the area and help them put their data together so that you could collectively come together. How have you found that experience?
Peter Aikman:
So I guess that led on from what we were just discussing. I've got my numbers, who do I compare them against? So I thought that given that I've got all my numbers now in a professional software, there's no reason why I couldn't ask four or five people that I previously dealt with, to wonder whether they were interested in collaborating their data and comparing and starting up a... We call it a P2PAgri discussion group.
Peter Aikman:
So I guess what we set out there was like, I just felt that I wanted to improve my knowledge. I wanted more confidence in my numbers. I wanted more accuracy, transparency with business partners, whether that be people in your business or your banks and to enjoy it. So I... That's what I set for myself. I put it out there to a few people that I thought might be interested and we all committed and said, " Yeah, well this is a journey we want to be on.
Peter Aikman:
And yeah, it has been fascinating. So there's four Mallee guys and one farmer in the Northeast. So we catch up a couple times a year. We are not competing. However, we are comparing and competing against ourselves year on year trying to improve our strategies in numbers. And then we're really just looking at other people's numbers and getting inspiration I guess from others. So I think as farmers, we spend a lot of time working by ourselves and thinking about things by ourselves. We just felt that this group has been a forum where we can discuss potential strategies, potential things that we are looking at doing in our business with some like-minded people.
Peter Aikman:
And not that they're telling us what to do, but it's more just sharing and giving opinions on each other's businesses and learning. That's what it's been about. We've all started from a fairly low base and we're learning and improving our skill set. And I've really enjoyed the journey.
Mike Krause:
Fantastic. It's probably some key learnings that come out of that. But I guess to me, if you are sitting back and actually measuring a lot of these key performance indicators, that gives you then an ability to make decisions, to see what can improve in there. Have you felt that the financial performance of the group has generally lifted over that period, when you've been collecting the data and discussing things?
Peter Aikman:
I think we've compared for three years. We've had this group going for three years now. So I don't know, we all look at that information or the data pyramid and you've got data at the bottom. So the first time we enrolled, we had a lot of data and very little conversation because … we didn't have enough... the next step is information, isn't it?
Mike Krause:
Yeah.
Peter Aikman:
And then it's gaining knowledge and then let's make decisions. So how far are we through that? The first email had a lot of data. Then we set about getting more information around it because they are only numbers on a page. There's so much data in the world. It's like yield maps, isn't it? We could all have a lot of yield maps, but do we utilize that data? No, I know I don't.
Peter Aikman:
We had all this financial data, but we didn't have the information behind it, some of these other businesses, like how they come about. So what we set up in these couple of discussion groups a year is let's talk - each individual talks about their business and we get more information about them. And then now we're getting to that knowledge stage – like yeah, that's why that number's X or Y and now we're starting to make some decisions.
Peter Aikman:
So, I don't think the group automatically turned on a light switch. I think the seasonal variability has had as much to do with the financial performance than anything else. But I do know we know a lot more in this space. We've got a good network going there and yeah, we're all inspired to continue to improve.
Mike Krause:
Great Peter. The litmus test would be - you've had a significant journey in this space and starting that farmer group. Would you do it again now that you know what you got out of it and would you encourage others to look at your journey and see whether that might be useful for them?
Peter Aikman:
I'm definitely glad I've done it. There's no doubt about that! To feel that we've all improved our knowledge in this space and those... Yeah, I'm not saying that it doesn't make decisions for you, but at least now I've got some really good data and we can run scenarios in P2P and …. you've still got to make that decision, but I feel what's measured is managed better. Isn't it? So I would definitely recommend people with a passion in learning and up-skilling themselves.
Peter Aikman:
Look, I don't think it's for everyone - not everyone will have the discipline to keep good data and to proactively open up P2P once a month or once every couple of months to refresh and review. But for the person that's more similar to me, pretty analytical and enjoys that, or now enjoys spending time and looking at different scenarios and analyzing the business, then for sure. I think it's a really good platform to improve your literacy, financial literacy.
Mike Krause:
Really invaluable getting to understand what your journey's doing and all the best as you continue to grow and make those decisions. And as the group continues to mature and assist each other. So thank you very much for your time Peter. We really appreciate that.
Peter Aikman:
Thanks, Mike. And thanks for developing the software to help us through our journey.
Mike Krause is one of Australia's leading Farm Business Management consultants with significant experience in providing farm business management support, training and consulting to Australia's agricultural and agri-business industries.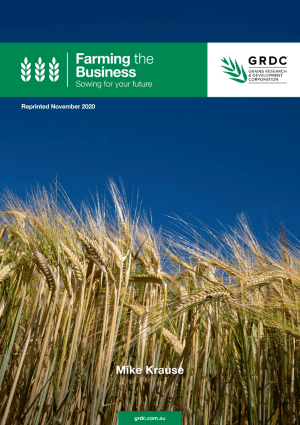 This experience forms the basis of significant developments:
'Farming the Business' manual Mike produced for the GRDC.
'Plan to Profit', the successful desktop software developed and sold by Mike over 12 years.
P2PAgri, our new online platform for farmers and advisers. Check it out on www.p2pagri.com.au.