GRDC's Farming the Business manual and eBooks
The Farming the Business manual P2PAgri produced for the Grains Research and Development Corporation (GRDC) has become a widely used resource at all levels in Australian agriculture – from farmers, to advisers and in education. It is currently used as a teaching resource in undergraduate farm business courses at universities and TAFEs around Australia.
The manual is available for download HERE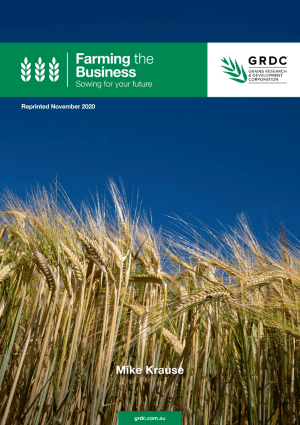 This manual is presented in three modules to guide farmers through essential farm business management and how to apply this to their own farm business:
Module 1: What do I need to know about business to manage my farm business successfully?
The first module provides an overview of the business of farming, covering the economic environment, people management and the basics of sound farm business management. The aim of this section is to provide an overview to highlight areas to improve your farm business management skills.
Module 2: Where is my farm business now and where do I want it to be?
This module covers the 'how to' of sound farm business management. It goes through how to develop a business vision, the essential farm business budgets and financial and performance ratios. It provides detail on what financial reports should be generated so that you can have greater control of your farm business management and improve business sustainability.
Module 3: How do I take my business to the next level?
This module covers more advanced topics to extend and refine your farm business management. Some of the topics are risk management, succession planning and what analytical tools you should use to answer those important 'what-if' questions for scenario analysis.
'Farming the Business' is currently in its 5th reprint and is used by Tocal Ag College (NSW), Melbourne University (Vic), Curtin University (WA), and Charles Sturt University (NSW).
P2PAgri has provided training in farm business management to numerous organisations, such as:
Grains Research and Development Corporation (GRDC)

Partners in Grain SA, Vic and NSW (PinG)

Rural Counsellors SA and Vic

Accredited Training Sector