Our mission is to empower farmers to ​accelerate their businesses ​despite these uncertain times.​
P2PAgri has had a long-held mission to help farmers improve their farm business management. Farming can be a risky business with significant challenges of climate and market uncertainty. The unique software and knowledge P2PAgri provides helps farmers to maintain sustainable and profitable businesses.
P2PAgri are proud to be able to help farmers and their advisers in this quest.
Our journey so far…
This mission began with Mike Krause (CEO of P2PAgri Pty Ltd), starting as a consultant in this space over 20 years ago.
Mike ran many early training workshops back before most people had their own computers and he would lug around a set of laptops to each workshop.
One workshop was particularly effective: the simulation game 'Risky Business' developed by Amir Abadi of the University of WA, which helped farmers experience how to manage their farm businesses under different risk scenarios. This learning was so powerful that many farmers and advisers didn't want to give the laptops back – they wanted to take them home to put their own business numbers through the program!
Mike's work history in government, banking and the insurance sectors, advising to over 200 farm businesses and ten years software development, gives him a broad experience from which to draw the best approaches to providing excellent farm business support and resources to the agricultural sector.
Mike Krause, CEO of P2PAgri Pty Ltd.
'Farming the Business' Manual
The 'Farming the Business' manual is segmented into three modules to address the following critical questions:
Module 1: What do I need to know about business to manage my farm business successfully?
Module 2: Where is my business now and where do I want it to be?
Module 3: How do I take my business to the next level?
'Farming the Business' is currently in its fifth reprint and is used by Melbourne University (Vic), Curtin University (WA), and Charles Sturt University (NSW).
The manual is available from the GRDC website.
It is also available as three eBooks on iTunes Australia:
Farming the Business Module 1
Farming the Business Module 2
Farming the Business Module 3
Who helped us to produce the 'Farming the Business' manual?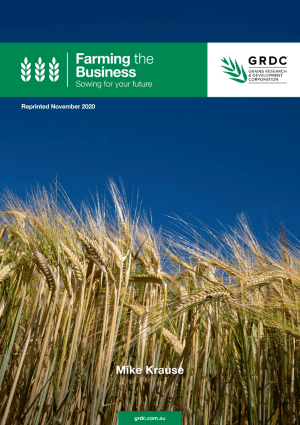 Training in farm business management provided for many organisations
Grains Research and Development Corporation (GRDC)

Partners in Grain SA, Vic and NSW (PinG)

Rural Counsellors SA and Vic

Accredited Training Sector
Our P2PAgri Team
Lucy Krause
Product Manager & Communications
P2PAgri is an exciting new on-line development that has evolved from the successful desktop software 'Plan to Profit' developed by Mike Krause over the last 12 years. Mike is one of Australia's leading Farm Business Management consultants. His significant experience in providing farm business management support, training and consulting to Australia's agricultural and agri-business industries forms the basis of this new development. Helping farmers improve their farm business profitability has been Mike's mission throughout his career.
"P2PAgri is like a flight simulator for farmers. Its farm business modelling capacity in the cloud provides a powerful decision-making tool to help farmers and their advisers test business decisions for maximising farm business profitability."